WHO CAN DRIVE?
Anybody over 16 (the circuit have special karts for youngsters; give them a call to arrange a session for the kids).
Many (if not most) people have some sort of airline connection, and a lot of them are pilots. We have people from BA, bmi, easyJet, Virgin, Jet2 and XL Airways. Drivers also come from ATC at both LHR and LGW.
At the same time, however, people bring mates and other-halves along as well. It's open to all, but please bear in mind…..…….we are currently only allowed 25 karts on the track! Get one while they're hot!
There's generally a wide range of abilities. With a grid of 15 or more karts, there will very likely be several people in your speed range.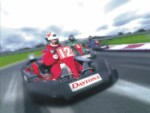 The idea of each event is for everybody to get together, enjoy the karting and then have a drink and some lunch in the pub around the corner afterwards. It's a social.
THE CHAMPIONSHIP
If you do more than one or two events with us per year, the championship might be of interest. Basically, your best three points scores will be added together to give you a points total.
We'll try to find something suitable to give to the highest-scoring driver as a trophy at the end of the year!
WHAT IF IT RAINS ON THE DAY?
You get wet. But a happy wet. Slick tires, no grip, 24 karts aquaplaining into the first corner... backwards!
WHAT DO I NEED TO BRING?
The circuit provides a natty range of race suits that fit over your clothes, and a large selection of crash helmets. Gloves and helmet-liners complete the look. If you have your own helmet, or even race suit, feel free to bring them.
If rain looks possible, bring a change of clothes - the water-proofs provided don't live up to their name!
SPECTATORS
Spectators are welcome, and there's a large decked area outside the clubhouse for watching. There used to be big earth banks around the circuit which spoiled the view, but they've removed those over the winter.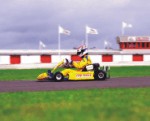 For an even better view of the action, walk the short distance to the far end of the circuit and watch from either of the first two corners. There's generally something worth watching there as the karts leave the grid on lap 1!
Limiting the duration of the event to 1 hour (and the fact that races generally break down into a number of small, frantic scraps) should mean that spectators won't need to worry about getting bored.
Contact Us for more info!